FRDAY SEPTEMBER 9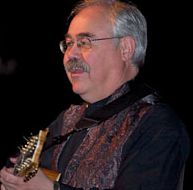 A return visit from veteran singer and fine guitar picker STEVE PALMER from Saskatchewan.
Also singers and multi-instrumentalists ROBBIE AND WILL, a short set from from local singer-songwriter and former Cape Bretoner, GREG O"NEILL, and house band CEARD opening the evening.
FRIDAY OCTOBER 7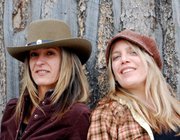 JENNY ALLEN
and
LESLIE ALEXANDER
. These fine individual performers have been performing as a duo the past year. I saw them not long ago and their harmony singing and on stage chemistry was just great - a case I think of the total being even more than the sum of the parts.

Also a set from
THE DOLL SISTERS
from Rocky Mountain House

. These young singers and multi-instumentalists have been a hit everywhere they've played in the last couple of years.
FRIDAY OCTOBER 21


Prairie blues and mountain ballads from
KEN HAMM
(2010 recipient of the Great Canadian Blues Award) and
SID MARTY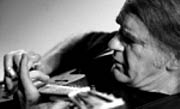 . I believe Ken and Sid will play a set each, plus likely a few songs together - this is what they have done on previous joint tours.
FRIDAY NOVEMBER 18

A very welcome return visit from local supergroup
MAGNOLIA BUCKSKIN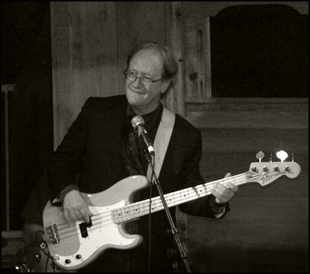 . Also a solo set from RON CASAT. Ron has played regularly with Amos Garret, Tim Williams and many more. He even had a stint with Ceard many years ago! Last spring he played an outstanding solo set at the Nickelodeon, and the idea is that he will do something similar at the Rocky.
FRIDAY
JANUARY 20
Robbie Burns night with MERCAT CROSS, CEARD, KILKENNY, and piper ROBERT HENDERSON. Haggis included!
MERCAT CROSS consists of Graham Tait (accordion and vocals), Heather Cameron (fiddle and vocals), and Chris Gregg (keyboard and vocals). Graham and Heather have played at the Rocky before in various Celtic groups. In the last year or so they joined forces with Chris to form MERCAT CROSS with a specific focus on Scottish music, and their high energy music has been a hit at venues such as the Calgary Highland Games, the Calgary St. Andrew-Caledonian Society, and the Calgary branch of the Royal Scottish Country Dance Society.
KILKENNY returns to the Rocky's Robbie Burns Night after a few years. Fiddler Jason McDougall has left for Eastern Canada, but Dick Howe, Diana Knaak and Denis McMaster will be supplemented by one or two of the members of Mercat Cross for a short set.
Piper ROBERT HENDERSON will pipe in the haggis and play a few favourite pipe tunes. Graham Tait will address the haggis.
House band CEARD opens, with Dick Howe featured on some of his favourite Scottish songs, and with regular band mates Jim Atkinson, Hal Curties and Paula McGarrigle also contributing to the Scottish theme of the evening
.




FRIDAY FEBRUARY17


Berna-Dean Holland
with Jack Loree, Norm Rooke and Sarah Dillman.
Berna-Dean Holland
(nee Gaudry), released her debut CD "Fledgling" on April 8th 2010. Her songs are rich and honest in a fusion of Canadiana / Folk / Roots and Bluegrass styles. A calming and effortless voice compliments her "hand crafted" songs in which she expresses a deep love of nature and her observations of the human condition.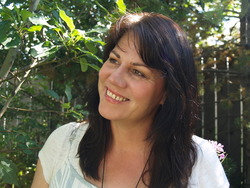 Jack Loree (dobro, banjo and guitar) has appeared at the Rocky previously with the fine bluegrass band The Tragically Hick. He was the producer of Berna-Dean's "Fledgling" CD and played on all the tracks. Norm Rooke (upright bass) has played with Fraid Knot and with Doug Baker, is also a fine songwriter, and like Jack played on all the "Fledgling" CD tracks. Sarah Dillman (fiddle) is also a singer songwriter in her own right with both a national and international touring history. She toured with George Canyon for a time and more recently has been playing around town with bands such as The June bugs.



Steve
and
Chris
Goodchild.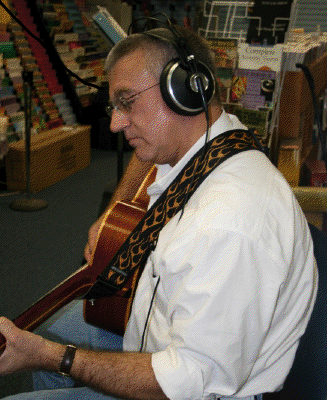 "Steve's all-acoustic repertoire comes from both sides of the Atlantic: from his roots in the North-East of England, via Houston, Texas (where he still plays with his band Across the Water) to home now in Calgary, Alberta. His songs are rooted in the folk tradition from both sides of the pond; contemporary interpretations and own compositions, sung acapella and to the accompaniment of banjo, bouzouki, cittern, dobro, guitars, mandolin, mandola and mandocello.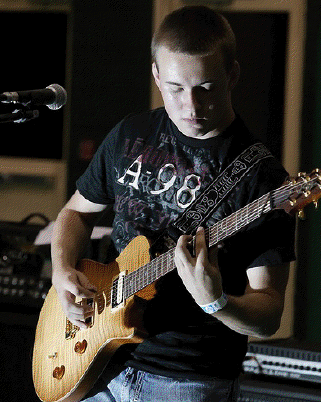 Chris is much more than just a "chip off the old block", honing his craft through soaring lead guitar solos with his band "Detained" in Houston before moving to Calgary, where he has broadened his palette as a self-taught electric and upright bass player with school Jazz and Orchestral bands (and he plays a mean drums too!). Now branching-out and invading dad's singer-songwriter acoustic-space, his material ranges from complex percussive-instrumentals a la Andy Mckee; contemporary and classic rock numbers meticulously arranged for acoustic guitar and fine examples of his own compositions"
These two are passionate about their music and enjoy performing and sharing it with all who care to stop to listen.
FRIDAY
MARCH 16
The Sunday Nite Band

, also

Derick Perry

.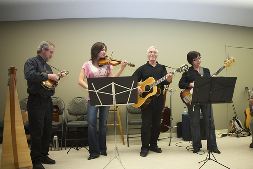 FRIDAY APRIL 20


Elena Yeung
and The Kootenay Express plus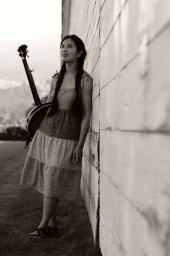 The Doll Sisters.