FRIDAY OCTOBER 20. The Wardens (Banff, Alberta)
plus opener Horizon Ridge
With performances equal to their mastery of the ranger trade, The Wardens - Scott Ward, Bradley Bischoff and Ray Schmidt - are a Banff National Park-based trio whose stories rise from the very land they've protected for the past 60+ years.
Their music - blending folk, roots and western styles - is a piece of Canadiana reflecting the pristine wilderness of the Rocky Mountains. The trio have performed at Folk Alliance International, Canmore Folk Fest, Alberta Showcase and have shared the stage with Blue Rodeo, Paul Brandt, Scenic Route to Alaska, and Tim Hus.
"The quintessential mountain-culture concert experience."
Jamie Bliss, Kootenay Mountain Culture Magazine - 2016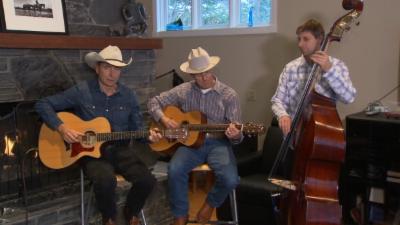 Schedule for the 2017-2018 Season:
September 22 Barry Luft + Horizon Ridge

October 20 The Wardens + Horizon Ridge
November 17 Lynne Hanson + My Son Ted
December 1 Cori Brewster and Christie Simmons

January 19 Robbie Burns Night with Mercat Cross & Graham Tait
February 16 Ben Miller & Anita MacDonald
March 16 Saint Patrick's Night with Hazel Grey & The Hubcaps
April 13 The Heebee-Jeebees
May 11 Season Closer with The Rocky resident performers

____________________________________________________________

The winner of our 2016-17 instrument raffle was Mr. Hal Curties. Thanks very much to all those who purchased raffle tickets - it's really a great way to help with bringing great talent to the Rocky year after year!
Thanks to Steve Goodchild for the donation of the fine guitar!!

( and congratulations to Hal... )
____________________________________________________________

Here's Hal Curties with his new guitar. Looks like he might even know a bit about how to play it...
James Prescott performing solo...

Our good friend Ron Casat in better times....

The inimitable Tom Lewis. May we cross paths once again!