NOTE: We have MOVED!! Starting in September 2018, performances will be held at the Rosedale Community Hall. The address is 901 - 11th Avenue NW. This is east of SAIT and just a few blocks south of 16th Ave. Click for map

Parking is on the streets around the hall and the nearby Rosedale school.

____________________________________________________________

Coming up next, on November 30:
John Wort Hannam (Lethbridge), opener Christie Simmons

____________________________________________________________

Schedule for the 2018-2019 Season:

September 21 The Travelling Mabels (Calgary area), opener Horizon Ridge
October 19 The Eisenhauers (Kaslo, BC) with opener The Senior Service
Swapping life in metro Vancouver for the relative seclusion of Kaslo, an old lumber town deep in Eastern BC, brought unexpected rewards for Sheree Plett & Jeremy Eisenhauer in the form of making wonderful music together. After 12 years of playing and recording separately, they have joined together in life as well as music and released a new album 'The Road We Once Knew' under their shared family name THE EISENHAUERS. Beautifully played, sung and executed, it is a testament to the healing power of music and the value of wisdom gained from experience.
"The shared vocals between Jeremy Eisenhauer and Sheree Plett (Eisenhauer), his wife, superbly bind everything together, making for an extremely enjoyable listening experience."
Discorder Magazine

Long time former members of house band CEARD, Dick Howe, Barry Luft and Jim Atkinson have been getting together on weekends for the last few years. They hit the road now and again as THE SENIOR SERVICE and make a welcome return to the Rocky with a fine selection of songs in the folk tradition.
November 16 Madeleine Roger (Winnipeg, MB), opener Horizon Ridge

November 30 John Wort Hannam (Lethbridge), opener Christie Simmons

January 18 Robbie Burns Night with Cabot's Crossing

February 15 Rob Heath (Edmonton)

March 15 Saint Patrick's Night with David Morrissey (Calgary)

April 12 To Be Confirmed
May 10 Season Finale - Rocky house bands & surprise guests

____________________________________________________________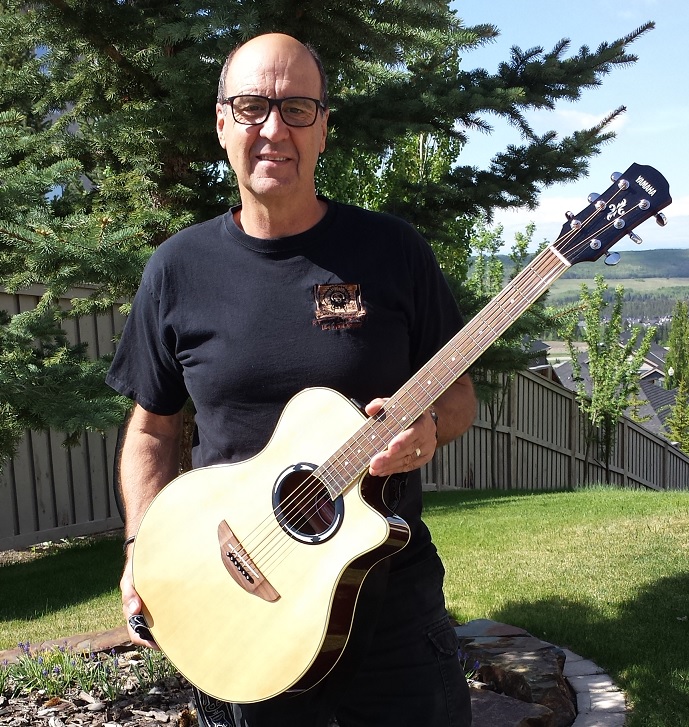 Here's the lucky winner of our 2017/2018 raffle, Mike Ryall. Thanks so much to Mike and to all who bought tickets, as well as to Dick Howe who donated the guitar. Your donations help the Rocky to keep bringing in great musical acts year after year. We couldn't do it without you!

______________________________________________________________

James Prescott performing solo...

Our good friend Ron Casat in better times....

The inimitable Tom Lewis. May we cross paths once again!