The 2014/2015 Season (the Rocky's 40th season) started on Friday September 19, 2014 and wound up on May 1, 2015 with a 40th Anniversay celebration.
Our show on FRIDAY MAY 1 was our 40th birthday celebration, featuring house band CEARD, plus former Ceard members Barry Luft, John Campbell, John Leeder, Kathy Cook and Charlie Chiasson. Also a few songs from NOISES IN THE BASEMENT and HORIZON RIDGE, two bands featuring some of our volunteers. And cake, and probably some surprises!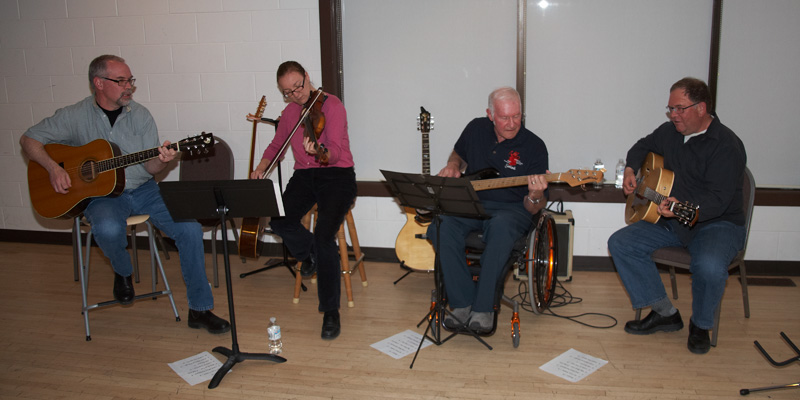 FRIDAY SEPTEMBER 19. The Steve Fisher Bluegrass Band (Alberta)

Bluegrass, folk, fiddle tunes and swing from some of Calgary's most accomplished bluegrass and celtic performers. Members of the band are Fred Mallette on banjo and vocals, Erik Smistad on upright bass and vocals, Scott Duncan on fiddle, and Steve Fisher on guitar and vocals.
FRIDAY OCTOBER 17. Bob Evans (Saskatchewan)
A very welcome return visit by award winning guitarist, singer and all round entertainer Bob Evans. Among many other achievements, Bob was the 2003 U.S. National Fingerstyle Guitar Champion. He combines an eclectic mix of contemporary finger-style guitar and traditional roots music with a warm vocal style, tilted sense of humour and down to earth stage presence to provide a refreshing performance experience for music lovers in general. Definitely not just for "guitar geeks".
"Bob effuses the melodic spirit of Chet Atkins and the fiery verve of Tommy Emmanuel with his own sense of humour here. Never self indulgent, each track is quick to the richly spirited and melodic chase."
Penguin Eggs Magazine

"I consider Bob Evans to be one of Canada's National Guitar Playing Treasures. Bob plays MELODY – great melodies – some original, some time-honoured – all concisely and thoughtfully arranged and played with an easy flowing groove. You can listen to Bob Evans' playing all day............"
Randy Finney – President & Founder, fingerstyleguitar.ca.

FRIDAY NOVEMBER 14. West My Friend (Victoria BC)
plus The Jansen Sisters (Calgary)
"West My Friend offers a sound of true Canadiana achieved via extraordinary musicianship. Eden Oliver's vocals are powerfully eclectic, bridging the gap between east coast Cape Breton and Vancouver Island."
Brad Edwards, Play in Victoria.net
This album is a rare gem that brings together the best of so many things... there's echoes of old world klezmer music, anthems that soar like Broadway show tunes, and vocal harmonies that would be envy of the best old-time bluegrass bands. It's all wrapped up with beautiful mandolin and accordion notes that have me hitting the repeat button.
Jo-Ann Roberts: Host, All Points West, CBC Radio One
FRIDAY JANUARY 16. Robbie Burns Night with Jim Hutchens, house band Ceard, Mercat Cross and piper Robert Henderson. Haggis included!
FRIDAY FEBRUARY 20. The June Bugs plus The Hot Timalis
House band Ceard will open the evening, followed by The Hot Timalis, featuring the voices of Tim Fraser (former host of great music evenings at the Cabin Cafe) and Alison Laberge in an eclectic collection of songs. We will finish off with The June Bugs who will include in their set some songs from their new CD "Just Here To Sing". Band members, all on vocals both solo and harmony, are Renay Eng-Fisher (upright bass), Sue Anne Borer (auto-harp), Sandy Hirth (guitar) and Tim Babey (mandolin and guitar). They will be joined by fiddler Jarred Albright in a great collection of covers and originals in the gospel, bluegrass, folk, swing traditions and more.
FRIDAY MARCH 20. St. Patrick's Celebration with The Wild Roses plus The Hubcaps and Hazel Grey.
THE WILD ROSES are a combination of some of Calgary's top celtic performers with a good dash of Cape Breton fiddle and East Coast kitchen party spirit mixed in with their other celtic influences. Members are Heather Cameron (of Mercat Cross, on vocals, fiddle,guitar), Sean Sabraw (of The Staggered Pints, The Buccaneers and more, on vocals, guitar, bodhran), Miriam Hopf (vocals, piano, guitar), Errol Fischer (fiddle, mandolin, bass) and Chad Cook (vocals, mandolin).
THE HUBCAPS are Brock Smith and Murray Cameron, friends since school days, who have performed and toured the world together as part of the Stratus Singers and the showband Stratusfaction as well as The Hubcaps. They combine humour and a vast repertoire of music.

HAZEL GREY consists of Peter and Josanna Justine, who moved to the USA in 1998 and began writing, performing and recording together. They relocated back to Calgary fairly recently. Their blended vocals, plus Pete's guitar style and Josanna's varied instrumentation, give Hazel Grey a strong palette with which to share their love of music and stories of life. The combined band gets together from time to time to present their eclectic mix of celtic and other music at places such as the Water Valley Celtic Festival and Fionn MacCool's pub in Calgary.
FRIDAY APRIL 17. Eileen McGann
"One of folk music's most breathtaking voices ... her songs range from Celtic and traditional to very contemporary and topical. A gifted lyrical poet and composer whose gorgeous vocals make her a must-see performer."
"The last decade has seen McGann establish herself as one of the finest singers, songwriters, and interpreters of traditional music on either side of the Atlantic."
FRIDAY MAY 1. 40th Anniversary Celebration
House band CEARD, plus former Ceard members Barry Luft, John Campbell, John Leeder, Kathy Cook and Charlie Chiasson. Also a few songs from NOISES IN THE BASEMENT and HORIZON RIDGE, two bands featuring some of our volunteers. And cake, and probably some surprises!