FRIDAY FEBRUARY 16. 100 Mile House (Edmonton/UK)

The Jones Effect opening

A slight change of plans - our originally-scheduled group (Ben Miller & Anita McDonald from the east coast) unfortunately had to cancel. But this gives us a chance to bring back the award-winning duo from Edmonton, 100 Mile House! They've been busy, with their fourth CD out (Hiraeth) and lots of performing.

Winners of the Edmonton Folk Music Festival Emerging Artists Award and the 2016 All-Albertan Song Contest, 100 Mile House have shared their unique brand of transatlantic folk at some of Canada's biggest festivals. Their beautiful harmonies, rich arrangements and captivating lyrics have led to awards and nominations across Canada as well as radio play across the globe.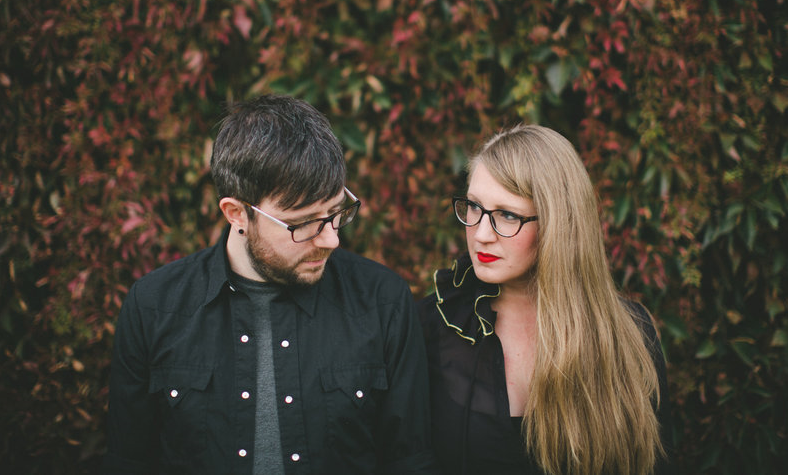 Schedule for the 2017-2018 Season:
September 22 Barry Luft + Horizon Ridge

October 20 The Wardens + Horizon Ridge
November 17 Lynne Hanson + My Son Ted
December 1 Cori Brewster and Christie Simmons

January 19 Robbie Burns Night with After The Storm, Graham Tait,
and piper Robert Henderson
February 16 100 Mile House + The Jones Effect

March 16 Saint Patrick's Night with Hazel Grey & The Hubcaps
April 13 The Heebee-Jeebees
May 11 Season Closer with The Rocky resident performers

____________________________________________________________

The winner of our 2016-17 instrument raffle was Mr. Hal Curties. Thanks very much to all those who purchased raffle tickets - it's really a great way to help with bringing great talent to the Rocky year after year!
Thanks to Steve Goodchild for the donation of the fine guitar!!

( and congratulations to Hal... )
____________________________________________________________

Here's Hal Curties with his new guitar. Looks like he might even know a bit about how to play it...
James Prescott performing solo...

Our good friend Ron Casat in better times....

The inimitable Tom Lewis. May we cross paths once again!